Ipe Decks! .......Ipe wood decking is next to perfect! Why?
If thinking of wood decking, ipe is next to perfect!
Ipe decks are expected to last many years. The US forest products laboratory has classified it as "Very Durable 25+ years" and expects "wood decking; ipe" will last much longer but this is the highest category available for classification. Thus, you and I won't be around to worry about whether our ipe decking is sound or not!
Ipe wood decking is hard, strong and so dense that slivers are not a problem. Ipe lumber is almost twice as dense as most woods and up to 5 times harder. Ipe lumber is naturally resistant to rot, mold, termites, abrasion & weather without the use of any toxic chemicals. What's not to like?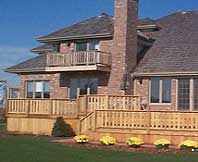 And it gets better.... as a wood decking, ipe has the highest, Class A fire rating (or class 1 by the UBC),.... the same rating given to concrete & steel, and on top of all that Ipe wood is a beautiful exotic wood with rich dark brown colors, like a mahogany, so not only lasts a long time but ipe decking has the beauty of a piece of fine interior furniture.... if left untreated sunlight turns it to a natural silver gray colour, that can be restored to its original colour with limited work..
Thus looking at the pros and cons of ipe deck material, we have to believe that ipe wood decking is as close to perfect as we can get.
Typical Uses:
Ipe exterior decking and porch railings, ipe adirondack chairs, play equipment and other ipe wood patio furniture, marine applications from pilings to bridges-piers and boardwalks, ipe fencing, balustrades and retaining walls.
Reports: Wood Decking- IPE
Ipe wood, characteristics, properties, toxicity, density, the tree, it names & geographic distribution
Termite Resistance of Ipe Wood Decking USDA Forest Service, Forest Products Lab, Madison, WI
Forest Products Laboratory Wood Handbook Chapter 1 has a list of quite a few native and exotic woods including a small bio about IPE lumber.
Projects Using IPE wood decking:
Duluth, Minnesota Lakefront Boardwalk
Boardwalk in Atlantic City