Wood Newel Post for Interior Railings
The Newel Post is what anchors your entire railing system, whether you chose wrought iron or wood spindles. Thus it is important to understand the features of a wood newel post, as it relates to the entire installation process.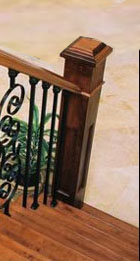 WIDTH:
The size of a standard newel (that used for interior railings) is typically between 2 3/4" and 3 1/2" square. Box Newels (as shown in the picture to the left) can be significantly larger as a function of your interior decorating preferences..
Wood Newel posts made of softwoods like pine, poplar or hemlock are often required to be a minimum 3.5" to meet your local building code.
With an Oak newel or maple newel post you can often get away with the smaller size (2 3/4") and still comply (make sure to check with your LOCAL building department as this is regional law, although they do tend to somewhat follow national guidelines)
HEIGHT:
You can typically find 42", 43 1/2", 48" & 55" lengths although the most common on the market are a 42" or 48" wood newel. In 2007 the guidelines for railings going down stairs was revamped to require higher minimum levels so newel posts have had to become taller as well.
This is particularly true for colonial posts where the first 4" is lost to the ball on top, before you can actually attach the handrail. .
Which height of post you chose is not just a function of the design but also depends on your installation methods.
If you are using some sort of metal newel post fastener then a wood post around 43" is usually suitable. The fastener is somehow attached to the base of the newel and then screwed to the floor. I'm not so excited about many of these mechanical fasteners as sometimes you have trouble finding solid wood in which to thread in the screws.
The preferred method of installation is to drop the post through the floor and anchor it to the floor joists below. This does require that you remove some of the sub floor to expose the floor joists below and allow secure fastening. In this case you would definitely need a longer 48"+ newel post.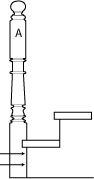 You also must use a 48" or often longer newel post when it is notched and installed up tight to the bottom step. Since it must drop that extra 7" to the lower floor the longer newel becomes critical. This is a great way to really anchor the bottom newel and strengthen your entire installation.
Longer newel post are also often necessary , in commercial installations where the upper balcony railing heights require a minimum of 42" (in residential applications its about 36").
The real point here is to make sure you have this conversation with the installer so you don't end of with product that isn't going to work. Most of my clients stain and finish their wood before the installer gets on the job site. If you do this and then find out that the material is not appropriate, you've lost your ability to return it back to the store for an exchange... so ask first and avoid expensive mistakes.