IPE Patio Tiles
Ipe Patio Tiles are great for ground level installation. Especially if you see the need to change the layout down the road. Once installed the ipe tiles can be lifted and moved to a new location....
The following is a description of the standard Ipe Patio Tile I have traditionally seen on the market, but you may wish to confirm sizing when you find a local supplier. Not all mills in South America, necessarily manufacture these IPE tiles in exactly the same size.

Ipe Patio Tiles
- 20" x 20" Square
- 5/8" ribbed top slats
- cross supports
-screwed together
- overall thickness 1 3/8"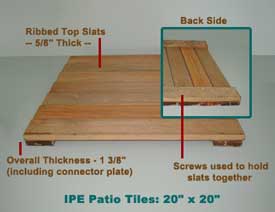 Ipe Patio Tile Connectors
- made of black plastic
- tabs for spacing and alignment of tiles
-holes drilled in the plate to allow anchoring of tiles to the ground
- plastic pins to interlock with under side of tiles