Hardwood Stair Treads

Starting with construction steps & refacing
Hardwood Stair Treads can be made in a number of ways depending on your application and stage of construction or rennovation. But by far the easiest method is to build a set of stairs from construction material (or strip an existing carpeted set) and create your grand oak staircase by covering the raw wood with more glamourous woods.. walnut, oak ... even tigerwood and brazilian cherry treads can be made for half the cost of the solid wood method.
So here's a bit about using "Recover Treads" .
With recapping treads, stairs are built out of construction material first and then recapped with decorative wood stair treads, of a hardwood to match the rest of your interior decoration.
In a rennovation application we are assuming that your existing steps are satisfactory in design and structure and now you just wish to cover them over with a more appealing solid hardwood stair, often as a replacement for the dusty old carpet.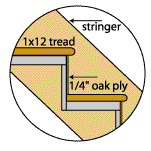 Wooden stair treads are usually 1" in full thickness. Risers are made from 1/4" plywood with a decorative face veneer to match the wood treads. Stingers are faced with this same plywood material.
The structural framework of your stairs is made entirely out of construction material. This makes the project easier. Screws and glue can be used randomly and liberally to make the whole structure good and solid. When all is said and done this will be covered with either decorative plywood or solid hardwood treads. For a beginner carpenter this offers alot of margin for error.
for all the installation tips and tricks see .. how to install hardwood stair treads
It also works out to be less expensive because the wood that costs the big bucks has now been replaced with plywood for the risers and stringers. The fine woods you have chosen for the wooden stairway treads that show, has been downsized to 1" in thickness, again saving significant dollars.
At the end of the day both of these approaches create the same appearance and wearability... afterall the walking zone (ie. the hardwood tread) is solid wood in both cases.
Alternate Approaches:
Method #3:
Using hardwood flooring on stairs in conjunction with a stair nosing.
See our section on... how to install hardwood flooring on stairs
Method #4:
Using Ceramic tile on the back half of your stair treads in conjuction with a stair tread nosing to create the front overhang.
See our section on... how to tile stair treads
if you are interested in purchasing Hardwood Stairs link to our sister site